Over ten years ago, Tiffany Bradlee Designs was born and we embarked on a wildly colorful adventure. Since 1998, having had the opportunity to sell to more than a dozen stores over the years, tour the craft and gift show circuits, enjoy some challenging and unusual projects, speak at various engagements, and donate to auctions and charities, not only are we lucky to say we love what we do, but we do what we love.
We consider ourselves lucky to celebrate more than a decade of success. Recently we've enjoyed some kind words and reviews from The Boston Globe, Northshore Magazine, Skirt! Magazine, Wickedly Chic, and Cafe Handmade.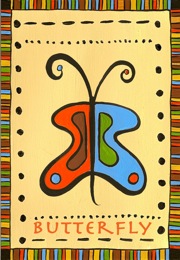 Thank you to our loyal customers out there and thank you, especially, to the fine stores carrying our products and for giving us that valuable exposure that keeps people coming back.
So the opportunities are endless as we continue to grow in size, scope, and creative possibility. Hope you'll stay along on our adventure, whether you tour the stores, purchase designs online, or simply browse our site from afar. Thank you . . . and may you keep on whistling. We are.
Tiffany Bradlee